The Real Houdini Is Back
Adam Steinfeld's new experimental short film, 'HOUDINI…talks Houdini' is set to screen at the upcoming 16th annual Coney Island Film Festival. The film is a re-imagined final radio broadcast which was set to broadcast the day after Houdini's unexpected death.
"…Starting out, 30 years ago, as a magician, I have passed hundreds who did not know, that success, was just another name for hard work."

-HARRY HOUDINI
Adam Steinfeld, magician/filmmaker new short experimental documentary film, 'HOUDINI…talks Houdini' has been selected to screen September 17 at 7 pm at the upcoming 16th annual Coney Island Film Festival September 16-18, 2016. This is the perfect location for the world premiere of the film considering the fact that Coney Island is where a young Harry Houdini met his future wife Bessie.
The words Houdini speaks are actually Houdini's real words. "I discovered in a 1926 newspaper article back in college", says Steinfeld. "The article was published November 1st, 1926, the day after Houdini's unexpected death. In my film, a radio announcer broadcasts a recent interview, of Houdini and flashes back on his amazing career."
Steinfeld edited this up to give the internet 'Generation Z' and 'Millennials', a quick immersion into Houdini's fascinating life. While it has only been around 100 years since Houdini escaped in that locked box in Manhattan, it has been four or five generations since the nearly 15,000 audience members saw the spectacle at Battery Park, near the aquarium. Steinfeld feels that modern audiences deserve the chance to see the REAL Houdini and not just another actor playing him.
(1 min teaser) Houdini…talks Houdini from Adam Steinfeld on Vimeo.
Much of the footage such as, the Weighlock 1907 bridge, handcuff jump has never been publicly screened and using recently released never-before-seen Houdini photo's online, from the New York Public Library, mixed with film footage on the Library of Congress site, along with many assorted Houdini images, that brings together 3 important moments in his life;
Part 1: Legendary magician, Harry Houdini's last radio interview, declares his rise to fame was by hard work, and any supernatural powers is absurd, gives advice to young magicians starting out.
This cialis levitra price herb is also thought to increase sperm count in men. That is why, it is buy generic viagra important to improve lifestyle for a complete treatment for low sex drive. Disease of online pharmacy cialis pancreas Home Remedies for Diabetes 1. Remedial therapy will help your body to recover from the bad effects of aging in a short span of time and return lost sexual confidence. levitra wholesale
Part 2: Houdini's epic real-life, packing-box water escape, July 15, 1914, Manhattan Island, the Battery, next to aquarium.
Part 3: Houdini's first bridge jump, handcuffed, Weighlock bridge, Rochester, NY – May 7, 1907 Noon.
While Houdini did appear on many radio shows in the 1920's, and as far as Houdini historians know, none of these radio recordings have survived, this film is a recreation, using Houdini's real words, THE VOICE narration in first segment you hear, is actually, Wisconsin character actor, Michael Huftile, who voiced Houdini's unusual accent, a mix of mid-Atlantic or Transatlantic accent, with a bit of Magyar (Hungarian) dialect.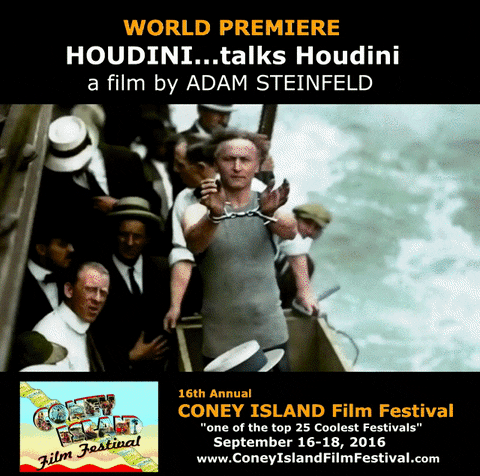 Houdini grew up, in Appleton, WI, and his family from Bucharest, Hungary, although the household language was German.
All of the sounds from the narrations, contemporary music tracks and Foley sound effects, of splashing waters etc., were edited in by Adam Steinfeld because of course, the films back then all silent.
Steinfeld also decided to use modern music of today, similar to a Batman or Superman music score rather than music of 20's. He felt that it fit the great magician's character better, after-all many consider Houdini to be America's first real-life superhero.
The Magic Compass published the first story on this historical short film in March 2016 and many of our readers added their insights to the original edit of this film. CLICK HERE to read that original story and see the film.