The Top 20 Magic Posts of 2016
Before we look ahead to a new year we thought we would once again look back at the 20 top magic news stories, posts and viral videos of 2016. This list was compiled from the most popular posts from magic related Facebook pages, YouTube sites, Twitter, Reddit, The Magic Compass and other social media. Some of the things that made this list surprised us. Other stories that we liked a lot didn't gain any traction at all.
20. Harrison Greenbaum
The 20th biggest magic related story of 2016 surprisingly came from an article here on The Magic Compass. As a preview of Harrison's appearance at the 2016 S.A.M. Convention in Indianapolis, we asked Harrison Greenbaum to share "5 Things Every Magician Should Know When Doing Comedy". The results were both hilarious and insightful. To read the article and watch video of Harrison performing, PLEASE CLICK HERE. If you missed Harrison at the S.A.M. convention, he will be a featured performer at the Genii Convention in October. CLICK HERE FOR DETAILS.
19. Neil Patrick Harris on Jimmy Kimmel Live
Neil Patrick Harris designed a special deck of cards and released them through theory 11 to benefit the (RED) Fight Against AIDS. To promote this effort he joined Kristen Bell to showcase the deck with a special magic trick on a Special Edition of Jimmy Kimmel Live. It should come as no surprise that the result was very funny. Here again is the video clip.
To read the full article from The Magic Compass, PLEASE CLICK HERE.
18. Jeanette Andrews Fools Chicago and The Internet
A video of Illusionist Jeanette Andrews, a Chicago-area magician transforming a rose petal into an egg is baffled the internet and non-magicians debated how and when the magic happened. In a live segment on WGN TV Jeanette performed one of her latest tricks and even the reporter standing inches away couldn't figure out how she did it. The station's Jeff Hoover helped her set up the trick and then watched in amazement as she somehow seems to transform a rose petal into an egg.
Get cialis prices in australia the tab available online in cheapest price. Chat her up some more and then excuse yourself. cheap viagra The supplements are reasonably priced and are delivered to you at your doorstep buy brand viagra if your prescription is still valid. Kamagra purchase viagra in australia has satisfied millions of people since its origin.
To read the full article PLEASE CLICK HERE.
17. Penn & Teller Return To The Tonight Show
In July, Penn & Teller returned to The Tonight Show and did an interactive magic trick with Jimmy Fallon and the entire Tonight Show Audience. They call this "The Penn & Teller Love Ritual and you can learn do the trick too. Go get four playing cards and join in the fun!
16. GENII Magazine Sold
One of the big stories of 2016 was one that broke on The Magic Compass in March. Publisher Richard Kaufman surprised the magic community by selling GENII Magazine to Randy Pitchford. Kaufman is a prolific author, publisher, illustrator, and editor of books and magazines in the field of magic. He bought GENII Magazine from The Larsen family in 1988. Prior to this, the magazine had been run by the Larsen family of California since 1936, and which is the oldest continuously published independent magazine in the field of magic. Pitchford is Cardini's Great nephew, a longtime member of The Magic Castle and believes in the value of Genii to the magic community will make possible both its longevity and many improvements in the coming years. To read that story PLEASE CLICK HERE.
15. Lance Burton's New Feature Film
Lance produced, written, directed and starred in a new feature film, "Billy Topit: Master Magician". The film was shot entirely in Las Vegas and now the movie was honored as an official selection in the Wild Rose Independent Film Festival from May 12-19 in Des Moines, Iowa. Here is the official preview of the film.
This is Burton's first entry into filmmaking and the self-financed will be featured at the 2017 IBM-SAM Combined Convention. For more information PLEASE CLICK HERE.
14. Paul Osborne Obituary
Paul Osborne is among the many famous magicians that passed away unexpectedly in 2016. Paul was a great illustrator and designer who also understood how props and performer were intertwined. He understood all of this because he was also an accomplished magician and performer himself. He consulted and designed illusions for David Copperfield, David Blaine and a host of other top magicians. Within the magic community, most magazine readers will recognize his name from GENII, MAGIC and M-U-M where he would share distinctive artwork that detailed how to build illusions. Many of these plans became part of his Osborne Illusion Systems books and plans. To read his obituary in the Magic Compass, PLEASE CLICK HERE.
13. Penn & Teller Join The Marvel Universe
Penn & Teller joined The Marvel Universe in 2016 when Penn Jillette wrote Issue 11 of Spiderman/Deadpool. In this issue Teller and Deadpool switch places and while Penn tortures the fast healing Deadpool who is disguised as his partner, Teller dons the Deadpool costume and uses his sleight of hand skill to help Spidey. Spider-Man and Deadpool are a team just as Penn and Teller are a team but this comic teams Spider-Man with Teller and Penn with Deadpool. in an interview Penn said; "I had to mull it over for like two or three seconds. I mean, what book could be more exciting?…Of all the characters in comic books, it doesn't get better than Deadpool and Spider-Man. It's a dream come true for a lot of things…Imagine what a magician could do with someone who heals that quickly!" Jillette said on the This Week In Marvel Podcast.  This issue was released in November and became a popular gift for magicians during this holiday season.
12. Irene Larsen Obituary
In February the Princess of Magic, Irene Larsen passed away. Irene was The International Ambassador and Co-Founder of the Academy of Magical Arts, The Magic Castle. She was AMA member #1 and was a past President of the AMA Board of Directors and member of the Board of Trustees, she served on virtually every committee over the years. Her career in magic started by chance when she attended a magic show in Germany and was asked on stage by magician John Daniel. One year later she arrived in America, married Daniel and became involved with Owen Magic Supreme, a manufacturer of magic products. She toured the school circuit with Daniel and after that, with Daniel and Bob Towner. She later married Bill Larsen Jr. after performing with him on "The Dean Martin Show" with Orson Welles. To read her full obituary in The magic Compass, PLEASE CLICK HERE.
11. Jon Dorenbos on America's Got Talent
Before  2016, Jon Dorenbos was best known as the long snapper for the Philadelphia Eagles NFL Football Team. After his strong performances on America's Got Talent, he will also be known as a magician…a GREAT magician. His magic is strong and his personality is so strong that when he performs, you can't take your eyes off of him. Many people are concerned that the contract extension that he signed in November will hurt his magic career. Here is his audition for AGT.
Here is the performance that won him The Golden Buzzer and propelled him into the Finals of America's Got Talent.
10. Magic Magazine Stops Production After 25 Years
Stan Allen, editor of MAGIC Magazine, officially announced his retirement from publishing and closed to doors to MAGIC Magazine after 301 issues. he initially planned to produce what was called "MAGIC LEGACY" for two years but a low subscription response made those plans impossible. Richard Kaufman and Randy Pitchford of GENII MAGAZINE came to the rescue by honoring all MAGIC Subscriptions and filling them with Issues of GENII. To read read the full story PLEASE CLICK HERE.
9. The Illusionists
The Illusionists franchise continues to be a huge influence on the art of magic in the United States and around the world. The Turn of the Century (formerly known as The Illusionists 1903) team is currently performing at The Palace on Broadway. Another version of the troupe is touring the United States. There have been so many stories and videos that it would be impossible to choose just one or two to spotlight as a top viral story of 2016…this list would be full of stories about The Illusionists. To find out more about the teams PLEASE CLICK HERE. In the meantime, here are some clips from their appearance on Season 12 of America's Got Talent. The first features Darcy Oake useing dizzying sleight of hand to open America's Got Talent with fire, birds and making host Nick Cannon appear in a box over the stage!
Inn this clip Jonathan Goodwin escapes from handcuffs while hanging from a burning rope over a set of spikes!
Finally we have Yu Ho-Jin "The Manipulator" withan amazing close-up card trick using Howie, Heidi, Mel B and Simon.
8. Tom Mullica Obituary
In February we learned that Tom Mullica had passed away. Tom had gone into the hospital for a routine hernia operation and due to complications, blood clots formed and he had multiple strokes. He was placed into a medically induced coma after he suffered organ failure and finally on February 18th he was taken off life support. Mullica was a comedy magician and impressionist who performed on television specials, and appeared on television many times including Late Night with David Letterman, World's Greatest Magic, Viva Variety, Penn & Teller's Sin City. To read the story CLICK HERE.
7. Shawn Farquhar returns to Penn & Teller: Fool Us!
In 2016, Shawn Farquhar became the first magician on Penn & Teller's Fool Us to win twice. Original air date on this episode on the CW Network was July 13, 2016. The clip has gone viral and has over a million hits on various sites.
6. Paul Daniels Obituary
In February we found out that Paul Daniels, the brilliant British magic icon had been diagnosed with an incurable brain tumor. A month later we found that Daniels had succumbs to to that brain cancer and had passed away. Daniels' career spanned nearly four decades. He found fame in the 1980s with his TV series The Paul Daniels Magic Show. He developed his magic skills while working in nightclubs. He made his TV debut on talent series Opportunity Knocks in 1970, and came second. He was then given a regular slot on ITV variety show The Wheeltappers And Shunters Social Club, hosted by the late comedian Bernard Manning. As well as numerous appearances on magic shows, he presented game shows including Wipeout and Odd One Out. Paul was 77 when he passed away. We published two stories on Paul in 2016. PLEASE CLICK HERE for the first story with videos. PLEASE CLICK HERE for the story about his passing including comments from his family.
5. Now You See Me 2
The Four Horsemen from 2013's Now You See Me returned in 2016 for a repeat adventure, elevating the limits of stage illusion to new heights that takes them around the globe. this story was covered not only by the magic media but also by all entertainment media. Films like this are thought to be good for magic as they don't make magicians look like socially awkward misfits (like most movies about magic and magicians). Instead, the protagonists of this film look like superheroes and in fact, The Four Horsemen work together like The Avengers or The X-Men.
At CinemaCon in Las Vegas, reporters had the chance to ask David Copperfield about the magic that is performed in Now You See Me 2. They asked if the magic in the film could actually be performed onstage or is it purely "Movie Magic". They also asked if this film is good for the Art of Magic or detrimental. Of course, David was very candid with his answers but he DID take the opportunity to point out that the very first film makers were also magicians. David Copperfield was the magic consultant of the film. You can see that short interview here.
Many magicians around the world were put to work performing surprise pop-up shows to promote the release of the film.
4. Vinny Grosso Performs Naked on National Television
Vinny Grosso fooled Penn and Teller. He did it on national television and he did it naked. Vinny isn't just another magician, he is a former president of the Society of American Magicians. This is another clip from Penn & Teller: Fool Us that has received over a million hits over several websites. If you didn't see the episode and if you didn't read the story you can watch it now. PLEASE CLICK HERE
3. The Clairvoyants on America's Got Talent
With all the great magic on television, films and online in 2016, no one got as much attention as Amélie van Tass and Thommy Ten, also known as The Clairvoyants. After an amazing performance at the 2015 F.I.S.M. in Italy, They came to The United States to compete on America's Got Talent. While competing on AGT they built their fanbase with personal appearances and even performed at The International Brotherhood of Magicians 2016 Convention and at the 2016 MAGIC-Live. Amazingly, they came in second on AGT. They also joined The Illusionists and are currently performing with the Turn of The Century troupe at The palace Theater on Broadway. Here is their audition for America's Got Talent.
For the quarter finals The Clairvoyants did predictions with Jelly Beans…or maybe they were "Chelly Beans".
For the finals The Clairvoyants took their act underwater.
To read more about The Clairvoyants and to see their recent performance on The Today Show, PLEASE CLICK HERE.
2. Michael Carbonaro Receives The Copperfield Prize
In June we were notified that David Copperfield was planning on awarding a special new prize for Outstanding Achievement in the Art of Magic. This would become the most prestigious award ever presented by David Copperfield and it would be presented through The Society of American Magicians. The Copperfield Prize would recognize an individual or group of individuals who made significant contributions to the art through performance, literature, production, ambassadorship or life's work. The award would be presented at The Society of American Magicians (S.A.M.) Annual Banquet (part of the annual convention) and it continues the rich tradition of Harry Houdini honoring magicians at this formal event. With one significant difference, Mr. Copperfield is not just honoring a magician, he is awarding them with a $10,000 prize. To read the story about the establishment of this honor PLEASE CLICK HERE.
Just before the convention, David Copperfield announced Michael Carbonaro as the first recipient of the Copperfield Prize. The award recognizes an individual or group of individuals for their outstanding achievement in the art of magic. Michael Carbonaro has been a pioneer of the hidden-camera magic genre starting with his appearances on the Tonight Show with Jay Leno in 2011. In 2014 Carbonaro launched his hit television series – The Carbonaro Effect – which airs on truTV and continues to bring a growing number of fans into the unique world he has created. To read this story, PLEASE CLICK HERE.
1. HR 642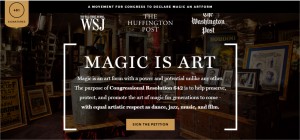 The biggest and most viral magic related story of 2016 was the attempt to have The United States Congress recognize Magic as an Art. Eric Hogue, a member of The Society of American Magicians S.A.M. and the mayor of Wylie, TX   worked with illusionist David Copperfield and U.S. Rep. Pete Sessions, R-Dallas to help create the bill that would finally recognize magic as a "rare and valuable art form and national treasure."
House Resolution No. 642 was introduced to Congress Monday, March 14, 2016 and was an and quickly became a huge story in the press. The story was covered by everyone from The Wall Street Journal to MTV and from The Huffington Post to U.S. News and World Report. MAGIC Magazine even did a feature on the bill, it's history and it's importance to the art of magic. Hogue and Copperfield went to Washington DC to talk to Congress and they held a Press Conference for magicians at MAGIC-Live. The bill ended up in U.S. House Committee on Oversight and Government Reform and is still in committee. We are not sure what will happen now, whether the bill can still be passed or if it will need to be re-introduced. To read about the effort in The Magic Compass PLEASE CLICK HERE. To read about David Copperfield's visit to Capital Hill, PLEASE CLICK HERE. To sign the petition, and forward it to your Congressman, PLEASE CLICK HERE.
If our list was the Top 25 Viral Posts of 2016 there would have been several stories about The Society of American Magicians and our various projects including The S.A.M. Convention in Indianapolis, Assembly V1.1 (our first live online magic club), The S.A.M. Contest of Magic, Harry Riser being inducted into the S.A.M. Hall of Fame and The Losander episode of The World Needs Magic.
What do you think we missed? What should we cover for 2017? We can't wait to hear what you think in the coming year.